Pressure Washing Services, Gutter Cleaning, Dryer Vent Cleaning Hayward California
Cleaning is the necessary evil in our world. If you had the choice of spending your weekend relaxing at the beach, going to a sports game, or cleaning out your gutters—what would you choose? Hayward Handyman Services guarantee you won't choose clearing out your gutters or pressure washing your driveway, deck, or the exterior walls of your house. Let us do the work for you so you can make the most of your weekends.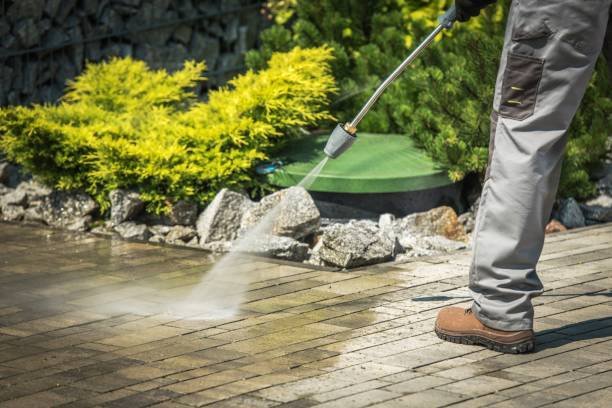 PRESSURE WASHING CAN INCREASE HOME VALUE
Dirty driveways and walls can make your house look old and dreadful. Having it pressure washed can dramatically improve the look and even the market value of your home. When your home is clean, it looks new and fresh, therefore deserving the opinion of higher value and worth!
CLEAR YOUR GUTTERS
In Hayward California, our rain is sporadic and unpredictable. If you live in an area with trees, the leaves fall into gutters and after the rain, it can get clogged in your gutters. Clearing out your gutters is an important regular home maintenance job to project your home from excess water collecting. Gutter cleaning will also keep your gutters functioning longer as well. If you're gutters need repair, we can take care of that for you as well.
Save Money
Has it taken a longer than usual to dry your clothes? Do your clothes feel a little damp even after you ran the full drying cycle? Many people neglect dryer vent cleaning. When the dryer hose and vent gets clogged, you have to run your dry cycle for a longer period of time because the hot air is not circulating properly, which will use more power, increasing your electric bill.
Prevent Fires
You can't see it, but your clothes dryer actually collects dust and lint overtime in the ductwork and connections in the back of your dryer. There are reports of many injuries caused by dryer exhaust duct fires. Keep yourself and your family safe by regularly cleaning your dryer vent ductwork and back connections.
Hayward California Pressure Washing Services near me
Mountain View, CA Pressure Washing Services near me
Los Altos, CA Pressure Washing Services near me
Sunnyvale, CA Pressure Washing Services near me
Los Altos Hills, CA Pressure Washing Services near me
Palo Alto, CA Pressure Washing Services near me
Cupertino, CA Pressure Washing Services near me
Stanford, CA Pressure Washing Services near me
East Palo Alto, CA Pressure Washing Services near me
Menlo Park, CA Pressure Washing Services near me
Santa Clara, CA Pressure Washing Services near me
Saratoga, CA Pressure Washing Services near me
Campbell, CA Pressure Washing Services near me
Milpitas, CA Pressure Washing Services near me
Newark, CA Pressure Washing Services near me
Redwood City, CA Pressure Washing Services near me
San Jose, CA Pressure Washing Services near me
Alameda Pressure Washing Services near me
Albany Pressure Washing Services near me
American Canyon Pressure Washing Services near me
Antioch Pressure Washing Services near me
Atherton Pressure Washing Services near me
Belmont Pressure Washing Services near me
Belvedere Pressure Washing Services near me
Benicia Pressure Washing Services near me
Berkeley Pressure Washing Services near me
Brentwood Pressure Washing Services near me
Brisbane Pressure Washing Services near me
Burlingame Pressure Washing Services near me
Calistoga Pressure Washing Services near me
Campbell Pressure Washing Services near me
Clayton Pressure Washing Services near me
Cloverdale Pressure Washing Services near me
Colma Pressure Washing Services near me
Concord Pressure Washing Services near me
Corte Madera Pressure Washing Services near me
Cotati Pressure Washing Services near me
Cupertino Pressure Washing Services near me
Daly City Pressure Washing Services near me
Danville Pressure Washing Services near me
Dixon Pressure Washing Services near me
Dublin Pressure Washing Services near me
East Palo Alto Pressure Washing Services near me
El Cerrito Pressure Washing Services near me
Emeryville Pressure Washing Services near me
Fairfax Pressure Washing Services near me
Fairfield Pressure Washing Services near me
Foster City Pressure Washing Services near me
Fremont Pressure Washing Services near me
Gilroy Pressure Washing Services near me
Half Moon Bay Pressure Washing Services near me
Hayward Pressure Washing Services near me
Healdsburg Pressure Washing Services near me
Hercules Pressure Washing Services near me
Hillsborough Pressure Washing Services near me
Lafayette Pressure Washing Services near me
Larkspur Pressure Washing Services near me
Livermore Pressure Washing Services near me
Los Altos Pressure Washing Services near me
Los Altos Hills Pressure Washing Services near me
Los Gatos Pressure Washing Services near me
Martinez Pressure Washing Services near me
Menlo Park Pressure Washing Services near me
Mill Valley Pressure Washing Services near me
Millbrae Pressure Washing Services near me
Milpitas Pressure Washing Services near me
Monte Sereno Pressure Washing Services near me
Moraga Town Pressure Washing Services near me
Morgan Hill Pressure Washing Services near me
Mountain View Pressure Washing Services near me
Napa Pressure Washing Services near me
Newark Pressure Washing Services near me
Novato Pressure Washing Services near me
Oakland Pressure Washing Services near me
Orinda Pressure Washing Services near me
Pacifica Pressure Washing Services near me
Palo Alto Pressure Washing Services near me
Petaluma Pressure Washing Services near me
Piedmont Pressure Washing Services near me
Pinole Pressure Washing Services near me
Pittsburg Pressure Washing Services near me
Pleasant Hill Pressure Washing Services near me
Pleasanton Pressure Washing Services near me
Portola Valley Pressure Washing Services near me
Redwood City Pressure Washing Services near me
Richmond Pressure Washing Services near me
Rio Vista Pressure Washing Services near me
Rohnert Park Pressure Washing Services near me
Helena Pressure Washing Services near me
San Anselmo Pressure Washing Services near me
San Bruno Pressure Washing Services near me
San Carlos Pressure Washing Services near me
San Francisco Pressure Washing Services near me
San Jose Pressure Washing Services near me
San Leandro Pressure Washing Services near me
San Mateo Pressure Washing Services near me
San Pablo Pressure Washing Services near me
San Rafael Pressure Washing Services near me
San Ramon Pressure Washing Services near me
Santa Clara Pressure Washing Services near me
Santa Rosa Pressure Washing Services near me
Saratoga Pressure Washing Services near me
Sausalito Pressure Washing Services near me
Sebastopol Pressure Washing Services near me
Sonoma Pressure Washing Services near me
South San Francisco Pressure Washing Services near me
Suisun City Pressure Washing Services near me
Sunnyvale Pressure Washing Services near me
Tiburon Pressure Washing Services near me
Town Pressure Washing Services near me
Union City Pressure Washing Services near me
Vacaville Pressure Washing Services near me
Vallejo Pressure Washing Services near me
Walnut Creek Pressure Washing Services near me
Windsor Pressure Washing Services near me
Woodside Pressure Washing Services near me