OUR FLOORING INSTALLATION SERVICE CAN HELP YOU REPLACE, UPDATE, OR INSTALL ALMOST ALL TYPES OF FLOORS.
When was the last time you checked your floors?
Floors are often overlooked, even though it takes the brunt of most activities at home. On top of that, most think interior designing is all about the flair of decors and the ambiance of the room. Choosing the right flooring depends on plenty of factors, such as the amount of traffic the floor would get, the location, and of course, the cost. And we, at Hayward Handyman Services, are more than glad to walk you through it.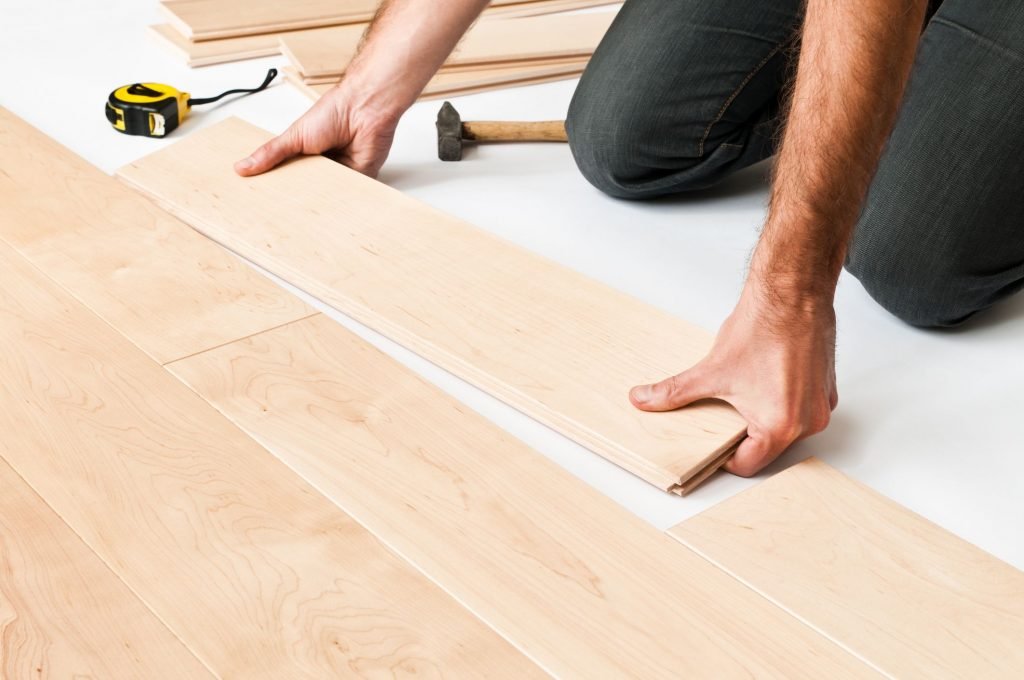 Floors play a significant role in your home, be it for functionality or for design purposes. Let's assess the different materials you could choose from:
Pros: Cheaper because of the largely synthetic materials; good for high-traffic rooms (e.g. playroom, family den) due to its durability; resistant to damage; can be cleaned easily
Cons: Not as visually appealing; cannot be repaired easily or refinished; lower resell value
Pros: Visually appealing; can add value when reselling your home; perfect for bedrooms where style matters; can be easily repaired by sanding down or refinishing
Cons: More expensive depending on how rare the wood is; vulnerable to damage like scratches or moisture
Pros: Durable especially for functional rooms; can be designed with any pattern or color; more affordable.  Vinyl planks are another option that is different than traditional vinyl.  This type of flooring is the latest trend in flooring, is exceptionally resilient and can look just like wood.
Cons:  Traditional vinyl is easier to damage and susceptible to being punctured by sharp objects.  Vinyl planks, on the other hand, has little to no cons and is an excellent choice for homeowners looking to replace their floors.
Picking the floors that fit for you and your family is enough work in itself! Once you've made the best decision for your home, call us to finish your project easily with our flooring installation services.
You can rest easy with Hayward Handyman Services, as we have the proper experience to install complete new flooring for the entire house, for your bedroom or kitchen, or for any specific area of the house.
Our handyman services come highly recommended for home repair and home improvements.
We also provide Carpet Installation Services
Carpets last, on average, for seven years. However, a lot of households need carpet replacement in only a few years time due to the amount of dirt and/or damage it has accumulated. Call us to help you replace them today!
Make Your Carpets Last Longer
To keep them looking fresh and clean, here are a few things you can do:
Vacuum frequently and properly
Vacuum twice a week, especially for high-traffic areas. High-traffic lanes need four to six passes, while low-traffic lanes need two to three. Additionally, make sure your vacuum works well, and that the bag or filter is regularly replaced or washed.
Use rugs
Rugs in high-traffic areas (e.g. hallways, entryways) help minimize crushing those areas on your carpet.
Clean stains quickly
The key to avoiding stains is to clean spills once it happens and not let it stay and dry up. Blot the area; not rub. Rubbing would spread any liquid and push it more towards the carpet.
Get professional cleaning
Stay proactive. Lots of homeowners wait until their carpets are unrecognizable before they admit that handyman services are needed. Regular carpet cleaning every 18 to 24 months is highly recommended to keep your carpet looking fresh and new for a longer amount of time.
Affordable and quality workmanship is at the core of our company. We don't want you to come home to frayed, dirty, and dull-looking carpets. This is where Hayward Handyman Services can prove to be a huge help around the house.
Hayward California Flooring Installation Service near me
Mountain View, CA Flooring Installation Service near me
Los Altos, CA Flooring Installation Service near me
Sunnyvale, CA Flooring Installation Service near me
Los Altos Hills, CA Flooring Installation Service near me
Palo Alto, CA Flooring Installation Service near me
Cupertino, CA Flooring Installation Service near me
Stanford, CA Flooring Installation Service near me
East Palo Alto, CA Flooring Installation Service near me
Menlo Park, CA Flooring Installation Service near me
Santa Clara, CA Flooring Installation Service near me
Saratoga, CA Flooring Installation Service near me
Campbell, CA Flooring Installation Service near me
Milpitas, CA Flooring Installation Service near me
Newark, CA Flooring Installation Service near me
Redwood City, CA Flooring Installation Service near me
San Jose, CA Flooring Installation Service near me
Alameda Flooring Installation Service near me
Albany Flooring Installation Service near me
American Canyon Flooring Installation Service near me
Antioch Flooring Installation Service near me
Atherton Flooring Installation Service near me
Belmont Flooring Installation Service near me
Belvedere Flooring Installation Service near me
Benicia Flooring Installation Service near me
Berkeley Flooring Installation Service near me
Brentwood Flooring Installation Service near me
Brisbane Flooring Installation Service near me
Burlingame Flooring Installation Service near me
Calistoga Flooring Installation Service near me
Campbell Flooring Installation Service near me
Clayton Flooring Installation Service near me
Cloverdale Flooring Installation Service near me
Colma Flooring Installation Service near me
Concord Flooring Installation Service near me
Corte Madera Flooring Installation Service near me
Cotati Flooring Installation Service near me
Cupertino Flooring Installation Service near me
Daly City Flooring Installation Service near me
Danville Flooring Installation Service near me
Dixon Flooring Installation Service near me
Dublin Flooring Installation Service near me
East Palo Alto Flooring Installation Service near me
El Cerrito Flooring Installation Service near me
Emeryville Flooring Installation Service near me
Fairfax Flooring Installation Service near me
Fairfield Flooring Installation Service near me
Foster City Flooring Installation Service near me
Fremont Flooring Installation Service near me
Gilroy Flooring Installation Service near me
Half Moon Bay Flooring Installation Service near me
Hayward Flooring Installation Service near me
Healdsburg Flooring Installation Service near me
Hercules Flooring Installation Service near me
Hillsborough Flooring Installation Service near me
Lafayette Flooring Installation Service near me
Larkspur Flooring Installation Service near me
Livermore Flooring Installation Service near me
Los Altos Flooring Installation Service near me
Los Altos Hills Flooring Installation Service near me
Los Gatos Flooring Installation Service near me
Martinez Flooring Installation Service near me
Menlo Park Flooring Installation Service near me
Mill Valley Flooring Installation Service near me
Millbrae Flooring Installation Service near me
Milpitas Flooring Installation Service near me
Monte Sereno Flooring Installation Service near me
Moraga Town Flooring Installation Service near me
Morgan Hill Flooring Installation Service near me
Mountain View Flooring Installation Service near me
Napa Flooring Installation Service near me
Newark Flooring Installation Service near me
Novato Flooring Installation Service near me
Oakland Flooring Installation Service near me
Orinda Flooring Installation Service near me
Pacifica Flooring Installation Service near me
Palo Alto Flooring Installation Service near me
Petaluma Flooring Installation Service near me
Piedmont Flooring Installation Service near me
Pinole Flooring Installation Service near me
Pittsburg Flooring Installation Service near me
Pleasant Hill Flooring Installation Service near me
Pleasanton Flooring Installation Service near me
Portola Valley Flooring Installation Service near me
Redwood City Flooring Installation Service near me
Richmond Flooring Installation Service near me
Rio Vista Flooring Installation Service near me
Rohnert Park Flooring Installation Service near me
Helena Flooring Installation Service near me
San Anselmo Flooring Installation Service near me
San Bruno Flooring Installation Service near me
San Carlos Flooring Installation Service near me
San Francisco Flooring Installation Service near me
San Jose Flooring Installation Service near me
San Leandro Flooring Installation Service near me
San Mateo Flooring Installation Service near me
San Pablo Flooring Installation Service near me
San Rafael Flooring Installation Service near me
San Ramon Flooring Installation Service near me
Santa Clara Flooring Installation Service near me
Santa Rosa Flooring Installation Service near me
Saratoga Flooring Installation Service near me
Sausalito Flooring Installation Service near me
Sebastopol Flooring Installation Service near me
Sonoma Flooring Installation Service near me
South San Francisco Flooring Installation Service near me
Suisun City Flooring Installation Service near me
Sunnyvale Flooring Installation Service near me
Tiburon Flooring Installation Service near me
Town Flooring Installation Service near me
Union City Flooring Installation Service near me
Vacaville Flooring Installation Service near me
Vallejo Flooring Installation Service near me
Walnut Creek Flooring Installation Service near me
Windsor Flooring Installation Service near me
Woodside Flooring Installation Service near me