Organize, Store, Paint, Install, Build & More
Intended for cars and trucks, the garage can be almost anything, including a workshop, laboratory, band rehearsal space or even a gym. For most, though, the goal is an immaculately organized space for cars, toys and tools. We can haul, install or even build from scratch to get you there.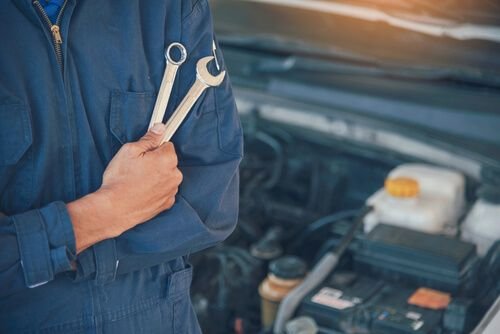 Garage Door Opener Installation
Some garage door openers are extremely loud and jerky. Others can be downright unreliable. Whether you need help installing a new garage door opener or need help replacing the garage door safety sensors, we can help. Hayward Handyman Services is the one-call solution for all of your garage door needs.
Installing a weather stripping in your garage door is an effective way to keep cool air out and warm air in during the winter. This is especially worthwhile for anyone who uses their garage as a workshop during the cooler months.
Garage Organization & Storage
To get rid of piles and clutter, install counter tops, shelving, cabinets and ceiling-mounted storage in your garage. It will free-up floor space and provide a new sense of organization. Hooks allow you to take advantage of your wall space, as do shelving and cabinets that your local Hayward Handyman Services can build for you from scratch to "custom fit" your space and aesthetics—or we can construct and install your store-bought solution.
Bike Hooks
Shelving
Cabinets
Overhead Storage
Bin Systems
Light Fixture Installation & Repair
The garage is your work space; stop working in the dark! Hayward Handyman Services is the one-call solution to installing and/or repairing light fixtures in your garage. Our home improvement professional will hide unsightly wires for all-around better lighting and a more inviting, comfortable work space. Please note that electrical services are subject to state and local licensing requirements and therefore may not be available at all locations. Contact your local Hayward Handyman Services for more information.
Handrail & Stairs Installation
Increase the functionality, usability and comfort of your garage-to-house entryway with stairs and handrail. This is a one-day improvement project that your local Hayward Handyman Services can provide for your home, satisfaction guaranteed.
Hayward California Garage Services near me
Mountain View, CA Garage Services near me
Los Altos, CA Garage Services near me
Sunnyvale, CA Garage Services near me
Los Altos Hills, CA Garage Services near me
Palo Alto, CA Garage Services near me
Cupertino, CA Garage Services near me
Stanford, CA Garage Services near me
East Palo Alto, CA Garage Services near me
Menlo Park, CA Garage Services near me
Santa Clara, CA Garage Services near me
Saratoga, CA Garage Services near me
Campbell, CA Garage Services near me
Milpitas, CA Garage Services near me
Newark, CA Garage Services near me
Redwood City, CA Garage Services near me
San Jose, CA Garage Services near me
Alameda Garage Services near me
Albany Garage Services near me
American Canyon Garage Services near me
Antioch Garage Services near me
Atherton Garage Services near me
Belmont Garage Services near me
Belvedere Garage Services near me
Benicia Garage Services near me
Berkeley Garage Services near me
Brentwood Garage Services near me
Brisbane Garage Services near me
Burlingame Garage Services near me
Calistoga Garage Services near me
Campbell Garage Services near me
Clayton Garage Services near me
Cloverdale Garage Services near me
Colma Garage Services near me
Concord Garage Services near me
Corte Madera Garage Services near me
Cotati Garage Services near me
Cupertino Garage Services near me
Daly City Garage Services near me
Danville Garage Services near me
Dixon Garage Services near me
Dublin Garage Services near me
East Palo Alto Garage Services near me
El Cerrito Garage Services near me
Emeryville Garage Services near me
Fairfax Garage Services near me
Fairfield Garage Services near me
Foster City Garage Services near me
Fremont Garage Services near me
Gilroy Garage Services near me
Half Moon Bay Garage Services near me
Hayward Garage Services near me
Healdsburg Garage Services near me
Hercules Garage Services near me
Hillsborough Garage Services near me
Lafayette Garage Services near me
Larkspur Garage Services near me
Livermore Garage Services near me
Los Altos Garage Services near me
Los Altos Hills Garage Services near me
Los Gatos Garage Services near me
Martinez Garage Services near me
Menlo Park Garage Services near me
Mill Valley Garage Services near me
Millbrae Garage Services near me
Milpitas Garage Services near me
Monte Sereno Garage Services near me
Moraga Town Garage Services near me
Morgan Hill Garage Services near me
Mountain View Garage Services near me
Napa Garage Services near me
Newark Garage Services near me
Novato Garage Services near me
Oakland Garage Services near me
Oakley Garage Services near me
Orinda Garage Services near me
Pacifica Garage Services near me
Palo Alto Garage Services near me
Petaluma Garage Services near me
Piedmont Garage Services near me
Pinole Garage Services near me
Pittsburg Garage Services near me
Pleasant Hill Garage Services near me
Pleasanton Garage Services near me
Portola Valley Garage Services near me
Redwood City Garage Services near me
Richmond Garage Services near me
Rio Vista Garage Services near me
Rohnert Park Garage Services near me
Helena Garage Services near me
San Anselmo Garage Services near me
San Bruno Garage Services near me
San Carlos Garage Services near me
San Francisco Garage Services near me
San Jose Garage Services near me
San Leandro Garage Services near me
San Mateo Garage Services near me
San Pablo Garage Services near me
San Rafael Garage Services near me
San Ramon Garage Services near me
Santa Clara Garage Services near me
Santa Rosa Garage Services near me
Saratoga Garage Services near me
Sausalito Garage Services near me
Sebastopol Garage Services near me
Sonoma Garage Services near me
South San Francisco Garage Services near me
Suisun City Garage Services near me
Sunnyvale Garage Services near me
Tiburon Garage Services near me
Town Garage Services near me
Union City Garage Services near me
Vacaville Garage Services near me
Vallejo Garage Services near me
Walnut Creek Garage Services near me
Windsor Garage Services near me
Woodside Garage Services near me